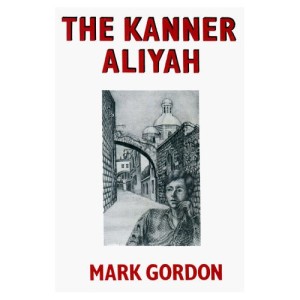 BUY THE KANNER ALIYAH (USED)  here at Amazon.com
Jerusalem …. Martin Kanner had to find out what it was like. In Canada he had heard plenty about Israel. But wasn't it worth it to go there and live and find out for himself?
There he meets Jesse, a Bulgarian emigre, steeped in the subtle mysticism of the East; Josephine, psychically gifted, from South Africa, who awakens new areas of feeling in Martin's young life; Britta, appealing and vulnerable, who has journeyed from Sweden, in search of…whatever it is that people search for in their early twenties. And Jerry Duke…Gila…so many others – all in their own ways absorbed in that unique search which can never be quite satisfied by the "answers" of a previous generation. Published by Groundhog Press.
A great book, the most memorable I've read in years…Much more than the story of a boy in Israel, it's really a novel about life's journey." — Sandy McKee, CJOH-TV, Ottawa, February 1980
An absorbing novel that deserves many Amens and Selahs for its narrative power, convincing characterization, and its sensitive response to the shifting currents in present-day Jewry. — Irving Layton, celebrated poet, February 1980
Not a page lacks compelling interest…Mark Gordon could go anywhere that his genius and courage may lead. — The Fiddlehead, literary magazine, April 1982
The Kanner Aliyah is a labor of love, written from the gut. — Montreal Gazette, July 1980
The Kanner Aliyah is compulsive reading. Martin Kanner struck me as a remarkable, indeed a classic, innocent abroad…Mark Gordon has a marvellous narrative gift, an immense talent. — Hugh MacLennan, acclaimed author, February 1980
BUY HEAD of the HARBOUR (USED) here at Amazon.com
Martin Kanner, 22, returns to Halifax, where he had grown up, after studies at Montreal's McGill University and a long, eventful stay in Israel.
Resuming his university studies, he mixes with an astonishing variety of people, most of them new to him. Some seem to have a calming influence; others perplex and trouble him. A Halifax woman, Joan Brighton, becomes his main attachment, though she is already connected to an older man, the painter Hugh McNeil. The more Martin is drawn into the turmoil of his new relationships, the more he finds himself searching into the past to discover what it was really like to grow up in that old seaside city, as part of the small Jewish community surrounded by people of a culture different from his own. Published by Groundhog Press.
A long, intense recital of youthful sturm and drang, written with unflagging determination and verve…this ambitious novel is a thoughtful, memorable examination of a unique Canadian community and the mind of a youth in search of answers to some of life's profoundest questions. — Bernard Baskin, The Spectator, March 1983
A novel of growth and awareness, written in a sharp, mature style that plunges you into the life and mind of its hero, Martin Kanner, a seemingly autobiographical avatar of the author…For sheer reading enjoyment, you shouldn't miss Mark Gordon's Head of the Harbour, a big, sprawling bite of reality, full of life and sheer energy. — Philip Walsh, The Ottawa Revue, March 1983
An important book for anyone who went through the me-generation and that period of self-actualization. — Margaret Trudeau, CJOH-TV, Ottawa, February 1983
COPYRIGHT © 2014 MARK GORDON